From Hard Drop Tetris Wiki
MMC Weekly #19
To submit news of any kind, please send a message in the weekly Discord thread in MMC

!
Tetra Online Servers Return Temporarily
As a last goodbye, the Tetra Online devs brought the servers back up for a day. Starting GMT 18:00, players could log onto Tetra Online and enjoy it one last time.
Jonas Neubauer Passes Away
My deepest condolences to those who knew the 7 time CTWC champion, who has left us suddenly. We will miss him.
https://twitter.com/neubsauce/status/1347769622947274754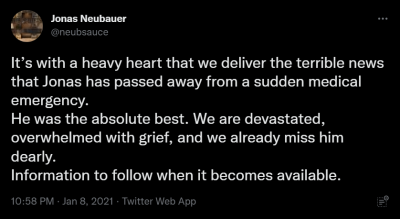 ┈┈┈┈Personal Bests:┈┈┈┈
Congratulations to Caboozled_Pie for taking the longstanding Ultra WR from Firestorm with a 147k DPC run!
https://jstris.jezevec10.com/replay/27578916
cz0402 beats Firestorm and ajanba in an intense top 3 in cadon's second TETR.IO Tourney!
Zack101155 wins Tag Cup Tetra Online #2
┈┈┈┈#Topic of the Week:┈┈┈┈

I still remember gladly accepting a challenge to Tetris Battle about four years ago, then getting destroyed by my 30apm classmate. Eventually, I did get my revenge, but that set me on a path towards where I am today. What made you all start playing Tetris? Why?
Share your thoughts in #general!

Before you go...
Please consider supporting MMC and everything we do to help out in the Tetris community; it really means a lot to us! https://streamelements.com/modernminocommunity/tip
LETS GOOOOOOOOOOOOOOOOOOOOOOOOOOOOOOOOOOOOOOOOOOOOOOOOOOOOOOOO