From Hard Drop Tetris Wiki
Tetris 2 + BomBliss is a game for the Nintendo Famicom by Bullet-Proof Software. Includes both Tetris and BomBliss. A battery saves high scores for up to ten players. Although the tetromino colors and spawn orientations are derived from Sega Rotation, this game apparently is the first to implement four orientations for S, Z, and I tetrominoes. Super Tetris 2 + BomBliss is an updated version of the same game.
Not to be confused with the similarly-named Tetris 2.
Tetris
The Tetris modes play similar to other Tetris games, with quick movement and animation.
A-Type has 15 levels, and clearing 10 lines will advance you a level.
B-Type has 90 levels (15 speeds and 6 heights), and clearing 25 will advance you a height. Clearing 6 heights will advance you a level.
C-Type is similar to A-Type, but garbage will rise from the bottom at certain intervals: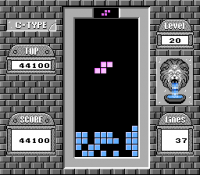 2 PLAYERS versus mode with garbage: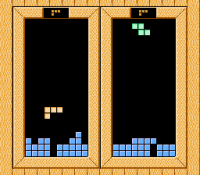 BomBliss
For the rules of BomBliss, see Tetris Blast.
This version of BomBliss includes 5-block pentominoes, in addition to the 2-, 3-, and 4-block pieces in other versions of BomBliss. These larger pieces make the game more cumbersome to play than the Game Boy port, which has pentominoes only on the second loop of Contest.
Hidden Pentominoes
The 1-player Tetris modes can be played with this set of pentominoes:
Enter Game Genie code POKLXEYA
At the "Select Player" screen, enter the "Eliminate Name" menu. Highlight "Exit", hold Down + A + B on controller 2 and press Start on controller 1. In the "Memory Clear" box, select "OK", which will clear the game's SRAM and permit the next step.
At the "Tetris" mode screen, select A-Type, B-Type, or C-Type. When selecting the game level, hold Down on controller 2 and press A or Start on controller 1.
External links
This article is a Hard Drop Tetris Wiki stub.
You can help Hard Drop Tetris Wiki by expanding it.