From Hard Drop Tetris Wiki
MMC Weekly #21
Look at all those PBs. Man.
To submit news of any kind, please send a message in the weekly Discord thread in MMC

!
Tetra Developer Studios Announces New Project
The creators of Tetra Online have revealed that they will be working on another block stacking game. For more details:
https://twitter.com/TetraDevStudio/status/1352727954204356609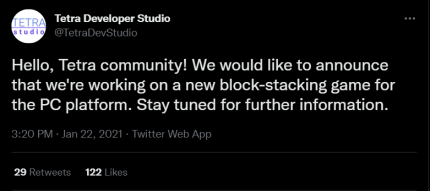 ┈┈┈┈Personal Bests:┈┈┈┈
QuantumHornet4 and fortissim2 both achieve 130k Ultra this week, obtaining 4th and 5th place respectively! Quantum uses DPC, while fort uses mainly BT.
https://jstris.jezevec10.com/replay/28370774
https://jstris.jezevec10.com/replay/28425472
Caboozled_Pie, smolfeesh, QuantumHornet4 and Merevir all PB in Blitz and reach ranks 4-7 in the aforementioned order.
cz0402 wins TETR.IO Cup #2, with jason0107 and Firestorm coming in second and third respectively!
cz and jason also place first and second in the Taiwan Saturday FFA mini tourney.
┈┈┈┈#Topic of the Week:┈┈┈┈

I've already asked this once before, but has DPC solved ultra? It provides a method to obtain very high ppb with less memorization that pure PCs, but as a cost it scores less. It is definitely taking the Ultra scene by storm though, with many users quickly rising to the top.
Share your thoughts in #general!

Before you go...
Please consider supporting MMC and everything we do to help out in the Tetris community; it really means a lot to us! https://streamelements.com/modernminocommunity/tip