From Hard Drop Tetris Wiki
MMC Weekly #46
bye wisdom teeth didn't like u anyway
To submit news of any kind, please send a message in the weekly Discord thread in MMC

!
BeastinShen will be hosting an in person event in Ohio in August. Games that will be played include TETR.IO, TE:C, PPT2, and Classic Tetris, and several high level players have already confirmed their attendance, including Firestorm, qmk, and Wumbo!
https://twitter.com/BeastinShen/status/1415384649799507972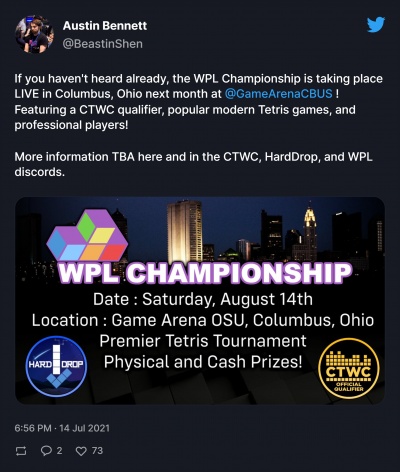 BREAKING: Two Gamers' Hands
After failing 12.7k lines in due to server reset, KezDaBez finishes a 42069 Line Sprint in 8 hours! Shan also completed the challenge along with him and finished his run an hour later. The two players were in voice chat together, and both found PC end.
https://jstris.jezevec10.com/usermodes/1915
https://www.twitch.tv/videos/1083923574
https://clips.twitch.tv/CrypticAverageDugongSSSsss-lAAV26qY-6HvfnsW
┈┈┈┈Personal Bests:┈┈┈┈
Caboozled_Pie becomes the first person to finish a DPC ultra run at over 4pps, at the same time claiming the world record, beating the previous record by nearly 8k points!
https://jstris.jezevec10.com/replay/37803313
mystery swiftly takes back his least piece 18L cheese world record with the first ever 24 piece run, beating the previous records by just one piece!
https://jstris.jezevec10.com/replay/37872572
MgCaSi2O6 continues to improve at an unheard of pace, absolutely skyrocketing all the way up to 2nd place in Jstris 20L!
https://jstris.jezevec10.com/replay/37810009
KezDaBez and ducklife4player both sub 10 minutes in 1000L sprint, making it to 6th and 9th place respectively! (nice)
https://jstris.jezevec10.com/replay/37918170
https://jstris.jezevec10.com/replay/37832700
LordTime/Cascalian becomes the first person to achieve top 10 in 10L cheese in 2021, and he does so with the fastest 11 piece cheese ever!
https://jstris.jezevec10.com/replay/37856273
fortissim2 makes it to 9th place in Blitz with a score of 979767!
Firestorm wins IFT:C #2 after doing a little trolling...
Tag Cup PPT #6 was won by GigaWhatGaming
┈┈┈┈Player Interviews: Diao┈┈┈┈
Diao, who's that, who's Diao? Somebody tell me.
-Blink, Hard Drop Awards 2019

Since he burst into the competitive scene with an incredible victory against Rideris in Jstris Cup East, Diao has been a fan favorite for well over a year, known for his flashy playstyle crammed with deadly downstack combos and risky maneuvers. Today, we'll get to know this 17 year old Malaysian pro better, and perhaps finally we can answer the penultimate question…?
Q. How long have you been playing Tetris?
9 years
Q. Who are some players you look up to? Why?
Diao, because who is diao
Q. Which Tetris platform or gamemode is your favorite? Why?
tetris battle, the combo table is buffed but still capped at 4
5 is too nani for fast tetris, ppt is ok but jstris have 5 attack too nani
Q. How can I play against zzztoj?
dm me if you want me to host it
Q. When you aren't playing Tetris, what are some hobbies you like?
sleep, but not at night
Q. Which achievements are you most proud of?
304 lines sent fst in tetris battle arena
Q. What keyboard or controller do you use?
logitech k120(very bad)
Q. What's your favorite food?
roasted resunwonku, kfcpotato
Q. What kind of music do you listen to while playing?
https://youtube.com/playlist?list=PL5WbR9EUe8Eqm4Dpb5DuJcAC6n7B6R-jV
Q. Do you play an instrument?
yes, osu
Q. What's your favorite color?
white sus
YES
Q. Can you share an embarrassing story about yourself?
yes.
Q. If you had one chance to wish for anything, what would you wish for?
delete my embarrassing story before sending to everyone
Thank you so much!! Is there anything you would like to say?
https://www.youtube.com/watch?v=dQw4w9WgXcQ

Diao's Social Media:
I have just queued into COWBOW in the Tetra League ranked ladder. I carefully adjust my tie and sip the Chateau Margaux 1787 I poured for this magnificent occasion. Nowhere else could one experience such grandeur, such spectacular poise on every tetrimino placement. COWBOW. Perhaps the greatest, most resplendent stacker to ever grace humanity. Smiling in deepest anticipation, I settle down to witness perfection.